Welcome back to a little thing I like to call the 5MinuteInterview! Today's guest is Bryan Thomas Schmidt, @BryanThomasS. He's visited here before and he's a lovely man that I'm happy to have here any time. He's on a blog tour just now for his newest release, The Returning, sequel to  The Worker Prince. He was also kind enough to host my post yesterday: Your Punctuation Personality Type.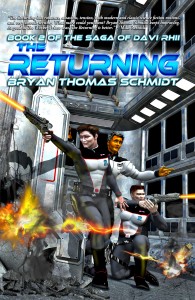 So, with no further ado, here's a quickie with the author. 😉
1. You're getting some pretty big names on #sffwrtcht these days. Do you ever get nervous about some of them?
If you were interviewing AC Crispin, Robert Silverberg, Robert J. Sawyer, Joe Haldeman, Stephen R. Donaldson and James Gunn, would you get nervous? OH YEAH! Silverberg, Crispin and Donaldson's books have been on my shelves since I was a teenager. The others I discovered more recently. Especially because of the technology I deal with, the live interviews, like we did with Sawyer and Crispin, are especially nerve wracking, sure. But they have all been pretty kind and gracious and generous with me and with their time. And they seem to genuinely enjoy and be humbled by fans' interest and mine. So, in the end, since I've done this for 19 months now and have it down to a science, as long as they feel I know what I'm doing and it's organized and easy for them, they just have fun with it and so can I.
2. Since you were last on here, the anthology you were working on, Space Battles: Full-Throttle Space Tales #6, has been published. What was that experience like?
Well, it was nerve wracking in the sense that I was editing one of my favorite authors and a guy who's taken me under his wing, Mike Resnick, and he was trusting me with his story. On top of that, I was editing friends and they were trusting me, and some were still waiting on that elusive first sale, so to speak. So I really felt pressure to do right by everyone. In the end, people respected the role I played. They took my notes and discussed the ones they had questions about, accepting most of them. In fact, Mike Resnick and Brad Torgersen, who co-wrote the story with him, didn't even hesitate. They agreed I was right and made the change. One unusual situation is that, because of timing, my being new, etc., I wound up having more time to really work with authors to craft their stories. I wound up with less submissions to sort through than expected and a really long lead time for the deadline, so we pushed back the date I had to turn in the anthology and I worked with several writers to really fine tune their stories. They seem appreciative of that and it was a good experience. Hearing reviewers later praise their work is very rewarding, too. I met and worked with some great writers on this thing, and it may not be perfect, but I'm certainly proud of it and planning to do more.
3. What was the biggest surprise you had when writing The Returning?   
Other than my personal life falling apart? Honestly, if I can survive what I went through behind the scenes during this, which I've blogged enough about that I don't need to bore you with it here (you yourself are well aware anyway since we're friends,) then I can't say much surprises me. The one thing I guess that did surprise me is that the first draft, when I went back to it after finishing and letting it sit for two and half months, wasn't a total piece of crap. In fact, it was actually better than I ever expected. My beta readers had told me it was better than the first book, but it was written in such chaos, I didn't want to believe that. After all, I polished The Worker Prince with nineteen drafts, some partial and focused on specific aspects but still. This was just first draft. When I went back through, the surprise twists surprised me. I had forgotten them. And it felt like the same series, characters, etc. Also, it was really MY story. The first one borrowed heavily from the biblical Moses story as the setup. This one came totally out of my head, although, as with The Worker Prince, I do put some pop culture nods in, including some obscure lines from Star Wars said as dialogue, etc. Those are rewards for readers in the know who like that and for me. So writing the first totally original tale in that universe and having it come out so well was a pleasant surprise, I'd say.
4. Had you planned all along to write the prequel story, Rivalry on a Sky Course, or was that something that came out of the creative process on its own?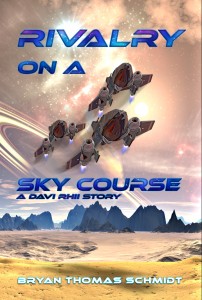 Rivalry came about because of a briefly described incident told in flashback early in The Worker Prince about how Davi Rhii, the protagonist, and his buddies Yao and Farien, became rivals with their military academy classmate Bordox. I knew there was more to that story which could be told, and, honestly, I thought getting some shorts out there with these characters, in this universe, would help bring notice to the novels. Once I started writing it, it took off, and, in fact, I revised the flashback in The Worker Prince before publication because of changes I had to make to make "Rivalry" work.
5. Have you already started the third book, or do you need a break to refresh your muse?
I have been playing with an outline for about six months but I had some other obligations including Space Battles, the second half of my North Star short story serial, and a children's book with deadlines first. And, yes, taking a break and doing something else really help get you focused and refreshed after spending so much time immersed in that world, so the break would have happened even without that, although maybe not this long. My plan is to start The Exodus as soon as my epic fantasy novel goes to betas which should be about the time this interview posts, in early July.
Thanks again, Bryan, for visiting, and best of luck with The Returning!
In Bryan's second novel, The Returning, new challenges arise as Davi Rhii's rival Bordox and his uncle, Xalivar, seek revenge for his actions in The Worker Prince, putting his life and those of his friends and family in constant danger. Meanwhile, politics as usual has the Borali Alliance split apart over questions of citizenship and freedom for the former slaves. Someone's even killing them off. Davi's involvement in the investigation turns his life upside down, including his relationship with his fiancée, Tela. The answers are not easy with his whole world at stake.
******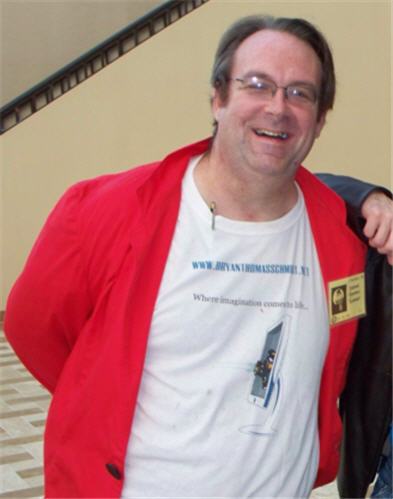 Bryan Thomas Schmidt is the author of the space opera novels The Worker Prince, a Barnes & Noble Book Clubs Year's Best SF Releases of 2011 Honorable Mention, and The Returning, the collection The North Star Serial, Part 1, and several short stories featured  in anthologies and magazines.  He edited the anthology Space Battles: Full-Throttle Space Tales #6 for Flying Pen Press, headlined by Mike Resnick. As a freelance editor, he's edited a novels and nonfiction.  He's also the host of Science Fiction and Fantasy Writer's Chat every Wednesday at 9 pm EST on Twitter under the hashtag #sffwrtcht. A frequent contributor to Adventures In SF Publishing, Grasping For The Wind and SFSignal, he can be found online as @BryanThomasS on Twitter or via his website. Bryan is an affiliate member of the SFWA.