Posts Tagged 'facebook'
July 5, 2011
What is 5MinuteFiction, you say? It's an adrenaline-fueled, instant-gratification sort of writing contest. Sound fun? Great! Get in there and get dirty!
The Rules
* You get five minutes to write a piece of prose or poetry in any style or genre
* You must start your entry with this sentence: "You sure you want to do that, chief?"
(Note: The prompt is the word. The picture is for decoration/inspiration.)
* Post your entry as a comment to this post.
I'll close the contest at 1:45. That gives you 5 minutes to write and ten to accommodate the vagaries of relative time, technology, and the fickle internets. If you are confused or just want to whine, feel free to email me.
At the close of the contest, this week's guest judge, BigAl, @BooksAndPals, (find him on Facebook), indie book reviewer extraordinaire, will nominate five finalists.
I'll put the nominees in a poll, and at 9:00 EDT tomorrow I'll close the poll and declare the winner.
For updates, you can subscribe to my RSS Feed, "like" my Facebook Page, or follow me on twitter.
What's the prize? Well, nothing, obviously. But we'll all agree to tweet and/or blog about the winner of today's contest so their fame and fortune will be assured.
A Few Notes:
* In the interest of time and formatting, it's best to type straight into the comment box or notepad. It's also smart to do a quick highlight and copy before you hit "post" just in case the internets decide to eat your entry. If your entry doesn't appear right away, email me sometimes comments go into the suspected spam folder and I have to dig them out.
* I reserve the right to remove hate speech or similar but I'm not too picky about the other stuff.
* This is all for fun and self-promotion. So be sure to put your twitter handle at the end of your post and a link to your blog if you have one.
May 5, 2011
I do love my social media, don't get me wrong, but it's always good to know where the things you love can come back and bite you in the butt, no?
So, a lovely friend of mine sent my this message through Facebook the other day:
In the nicest most polite way possible, I was on stumbleupon, and apparently, my friends (more importantly, what they follow) are displayed. Not that I care/judge one way or the other, I'm just not sure if YOU were aware. If you have no idea what I'm talking about, please disregard.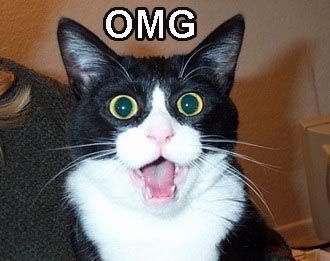 Isn't that nice? A heart-attack waiting to happen. I mean, how else do you react to that but 'OMG! What!'
Which is, of course, how I reacted.
Now, I don't use Stumbleupon, but in setting up the social media widgets for my blog I'd interacted with it in the past, and I think it's one of those things that if you're on Facebook it knows who you are and the names of your still-unconcieved offspring too. So I raced over there in a panic to find out what in the world my friend had seen.
What I found was that I'd "stumbled" on Sex Scene, an Anthology. Now, I've got no problem with that, I'm in it. (No, not like THAT.) It's an anthology of literary fiction. From the book blurb written by the editor, Robert James Russell:
Sex Scene: An Anthology aims to decontextualize sex, asking the reader to look at the act itself as not only a form of art, but also as the very basest of human urges.
The problem was caused by the fact that the tags applied to it were "porn" and "pornography." (I'm not going to get into the erotica vs. porn or art vs. smut thing. Let's just say this one ain't for the kiddies.)
What all this boils down to is that my friend went to Stumbleupon and saw "Leah Petersen likes pornography."
No mom, it's not me. Promise.